Whether you're a precision shooter or a hunter, these are among the best 6mm Creedmoor rifles on the market.
6mm Creedmoor is a fantastic precision shooting and light game hunting cartridge, with all the benefits of .243 Winchester and 6.5mm Creedmoor rolled into one. In practiced hands, it's one of the flattest-shooting and most accurate moderate- to long-range cartridges available. 
Essentially, it's a modernized .243, and there are plenty of great rifles chambered for it.
Here we'll go over what 6mm Creedmoor excels at, why you may want to own one and finally our picks for the best 6mm Creedmoor rifles currently available.
Wait…There's A 6mm Creedmoor Too? 
The origins of 6mm Creedmoor started with a 2007 article in Outdoor Life, wherein editor John Snow talked about how to design a wildcat cartridge. His idea was to neck the 6.5mm Creedmoor down to 6mm, creating a supremely accurate long-range cartridge that had less recoil.
Snow talked Hornady into making the brass, and it initially was going to be called 6mm Hornady Outdoor Life Express or 6mm HOLE, but Hornady quickly shot that down for obvious reasons. As for the rifle, Snow had a Sako action built on a McMillan stock by George Gardner at GA Precision. 
The original 6mm Creedmoor load Snow worked up was a 105-grain Hornady A-Max bullet on 43.2 grains of H4831SC (loaded to around 3,000 fps) which he found exceptionally accurate and very effective on game out to 500 yards. 
The idea caught on, and within a few years, it became the cartridge du jour in PRS events. Despite the popularity of 6mm Creedmoor having diminished since then, it's clear that the cartridge has found a niche in the market and isn't going anywhere anytime soon.
6mm Creedmoor Vs. 6.5mm Creedmoor Ballistics 
When it comes to comparing the ballistic properties of these two Creedmoors, the most significant difference is obviously between the size and weight of their bullets. The smaller and lighter 6mm Creedmoor has a slight edge in drop over distance due to its higher velocity (even despite its marginally lower ballistic coefficient). For the same reason, however, the 6mm is more affected by wind.
The typical 105-grain 6mm CM load (the most popular weight) has an average muzzle velocity of about 3,050 fps. Compared to the typical 130-grain 6.5mm CM load with an average muzzle velocity of about 2,950 fps, we see there's only a difference of about 100 fps.
Here are some 1,000-yard trajectory tables comparing 6mm CM, 6.5mm CM and .243 Winchester. All tables were made using Shooter's Calculator with a 100-yard zero, a 1.5-inch height-over-bore, a 90-degree 10 mph crosswind and no corrections for atmosphere.
First, the 147-gr 6.5mm CM ELD Match load with a G1 BC of 0.697:
And here is the 108-gr 6mm CM ELD Match load with a G1 BC of 0.536:
As you can see, the 6mm bullet has dropped 20 fewer inches at 1,000 yards but has drifted 13 inches more in the wind. Also, while the 6.5mm CM load stays supersonic until just after 1,600 yards, the 6mm CM only stays supersonic until about 1,400 yards.
Now let's compare it to a typical .243 Winchester load, in this case, represented by Winchester's 100-grain Power Point that has a G1 BC of 0.356: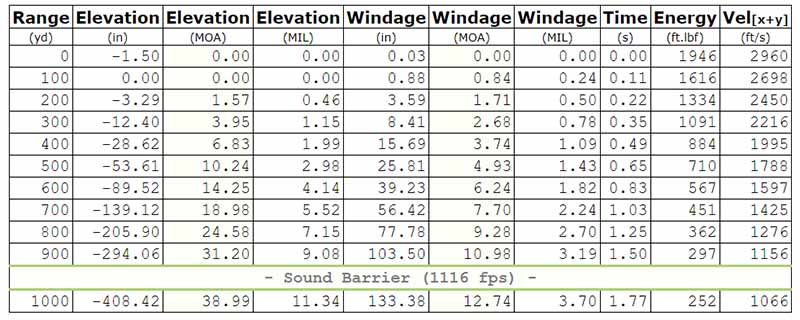 As you can see, 6mm Creedmoor absolutely buries old .243 Winchester hunting loads people have been shooting for ages like Power Point, CoreLokt and PowerShok. However, keep in mind modern ammunition exists for .243 as well. 
One benefit of 6.5mm Creedmoor is that it does carry more energy for longer distances. At 1,000 yards, the 6.5mm load has more energy than a .357 Magnum at the muzzle and satisfies the 1,000-foot-pound minimum that some states mandate for big game hunting all the way out to 800 yards. 
However, 6mm Creedmoor also puts less hurt on your shoulder as a result. Depending on various factors (rifle weight, exact load, etc.) it has about 10 foot-pounds of recoil, about 3 foot-pounds lighter than the average of its larger brother.
What Is 6mm Creedmoor Good For? 
6mm Creedmoor excels at precision rifle competitions, although fewer top shooters are using it these days compared to 6mm BR, 6mm Dasher and 6.5mm Creedmoor. However, that doesn't inherently make these other cartridges a better choice for all pursuits.
For instance, PRS only goes out to 1,300 yards. That's well within 6mm CM's purview and it can do it with less drop and lower recoil than 6.5mm CM.
Also, while 6mm BR and 6mm Dasher are better represented in the top echelons of the precision rifle sport, few factory loads exist for them. 6mm Creedmoor has ample factory support, from hunting to match ammo, and is relatively reasonably priced.
So, if you wanted an out-of-the-box way to get into precision rifle events, it makes an excellent choice. 
As a hunting cartridge, it's a fantastic choice for medium game at moderate to long ranges. It has light recoil, excellent accuracy and very modest drop over distance. While not alone in those qualities (again, modern .243 Winchester still exists, so does 7mm-08 and others), you could literally start shooting 6mm CM as a kid and use it your whole life. 
It makes a deer, pronghorn, sheep and mountain goat cartridge par excellence, and would certainly be a great pick for lighter plains game in Africa, red stag in Europe and Himalayan tahr. 
Larger game like elk, moose and black bear would not be beyond 6mm CM's capabilities (all have been taken with .243 Win.), though judicious shot placement is obviously very important. Not that it ever isn't, but even more so with smaller bullets on bigger animals. 
If any or all of those pursuits interest you, then 6mm Creedmoor may suit you very well. The next step is choosing a rifle.
The 6 Best 6mm Creedmoor Rifles
Ruger American Predator 
Ruger's American rifle series is a fantastic entry-level bolt gun with an excellent diversity of options. The Ruger American Predator, a lightweight, simple rifle with a synthetic stock, is offered in 6mm Creedmoor at a very attainable price point. 
Action: Bolt
Barrel: 22 inches w/ threaded muzzle 
Twist Rate: 1:7.7
Magazine Capacity: 3
Overall Length: 42 inches 
Overall Weight: 6.6 pounds 
Sight Mounting: Picatinny rail 
MSRP: $669 
Patriot Ordnance Factory Revolution DI 6mm Creedmoor 

The POF Revolution DI puts an AR-10 in an AR-15-sized receiver by revising receiver geometry, ultimately creating a sleeker, slimmer and lighter rifle. Along with the Gen 4 receiver, you get ambidextrous controls, a 14-inch M-LOK handguard, an adjustable gas block, a stainless fluted barrel with muzzle brake and rifle-length gas system, an adjustable stock (LOP and cheek riser) and POF's EPT trigger. 
Action: Direct Impingement 
Barrel Length: 22 inches w/ threaded muzzle and brake
Twist Rate: 1:7.5
Magazine Capacity: 20 
Overall Length: 41 inches (collapsed) 
Overall Weight: 8 pounds 
Sight Mounting: Picatinny rail 
MSRP: Starts at $2,903
Christensen Arms Mesa FFT 6mm Creedmoor 

If you wanted one 6mm Creedmoor rifle to do it all, the Christensen Arms Mesa FFT would be a stellar candidate. Its carbon fiber stock and carbon fiber wrapped barrel keep the setup very lightweight, while its muzzle brake helps to keep the recoil manageable. Given Christensen's sub-MOA guarantee, it's accurate enough for competition and light and handy in the field.
Action: Bolt
Barrel Length: 20 inches w/ removable brake
Twist Rate: 1:8
Magazine Capacity: 4
Overall Length: 39.5 inches 
Overall Weight: 5.5 pounds 
Sight Mounting: Picatinny rail 
MSRP: Starts at $1,599 
CZ 600 Range
The CZ 600 Range would be a good choice for an entry-level precision rifle for competition or benchrest shooting. It has a heavy target barrel, an adjustable cheek riser stock and multiple sling attachment points. CZ guarantees ¾-MOA accuracy with factory match ammunition. 
Action: Bolt
Barrel Length: 24 inches w/ threaded muzzle
Twist Rate: 1:7
Magazine Capacity: 5
Overall Length: 44.9 inches 
Overall Weight: 10 pounds 
Sight Mounting: Drilled and tapped for Rem. 700 bases 
MSRP: $1,299 
Bergara Premier Competition 
The Bergara Premier Competition is one of the last stops before a custom competition rifle. It takes Bergara's 700-based action and beds it in a Masterpiece Arms chassis with a Trigger Tech competition trigger and Arca Swiss rail for mounting a bipod. You just need to add a bipod and a scope and you're ready to go. 
Action: Bolt
Barrel Length: 26 inches w/ threaded muzzle
Twist Rate: 1:7.5 
Magazine Capacity: 10 
Overall Length: 46 inches 
Overall Weight: 12.7 pounds 
Sight Mounting: Picatinny rail 
MSRP: $2,750 
Savage 110 Tactical Desert 

The Savage 110 Tactical Desert would be a solid entry-level competition gun that's just slicked-down enough to use in the field too…though it's a bit heavy for a field gun. Savage beds its venerable 110 action in their AccuStock with an adjustable LOP and comb height, a heavy barrel (with threaded end cap) and AICS magazine compatibility. Since it's part of the Savage 110 family, it also comes with the AccuTrigger, one of the best factory triggers in mass-market rifles. 
Action: Bolt
Barrel Length: 26 inches w/ threaded muzzle
Twist Rate: 1:7.5
Magazine Capacity: 10
Overall Length: 48.5 inches
Overall Weight: 9.25 pounds
Sight Mounting: Picatinny rail
MSRP: $869
---
Raise Your Ammo IQ:
---
NEXT STEP: Download Your Free Storm Tactical Printable Target Pack
62 Printable MOA Targets with DOT Drills – Rifle Range in YARDS This impressive target pack from our friends at Storm Tactical contains 62 printable targets for rifle and handgun range use. Target grids and bullseye sizes are in MOA. Ideal for long-range shooting!
Subscribe to the Gun Digest email newsletter and we'll send your print-at-home target pack right away. Just enter your email address below.
---
Source link: https://gundigest.com/rifles/6mm-creedmoor-rifles by Sam Hoober at gundigest.com